A Karl Allaire Story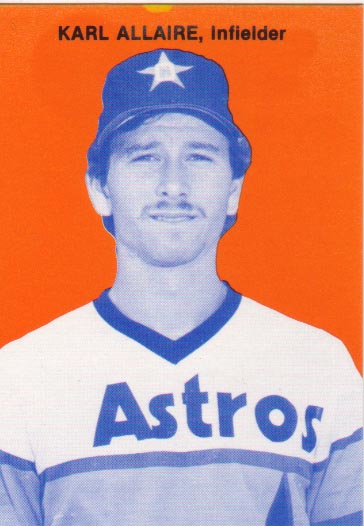 Karl Allaire never reached the majors (although he spent the 1988 season at AAA Tuscon), but he did play a major part one spring night in the Astros' decision to cast off shortstop Eric Yelding. In the seventh inning of a spring training game I attended on March 26, 1992, with Allaire playing for the Tigers, and the Astros trailing by one, second baseman Allaire caught Yelding napping off second with the hidden ball trick.
The Astros, long frustrated with Yelding's inattentiveness on the base paths, and most likely remembering that Atlanta's Jeff Treadway had caught Yelding with the same ploy the year before, sent Yelding down two days later. Although he had been the Astros' starting shortstop for the previous two years, Yelding never played for Houston (or in the major leagues) again.
Allaire, very kindly writing Astroland after this story was originally posted, adds the following:"The story you wrote is true, but also a little added story was when the Astros picked [Yelding] up from the Blue Jays, they pretty much gave up on me and he took my job. . . So there was a little revenge factor there. . . ."
Allaire also, I am now finding, went 1 for 3 in Mike Friederich's seven-inning no hitter of Lakeland in 1985.

Click here to go back to Astroland
(Unless you're Eric Yelding)

Thank you, Mr. Allaire