Dubuque Packers 5 Cedar Rapids Giants 0
August 16, 1975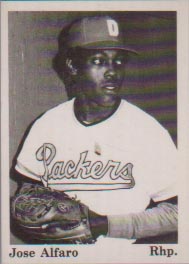 1975 TCMA Dubuque Packers # 22
---
With this game, Jose Alfaro gained entrance into a club that already counted four of his teammates as members. The 1975 Dubuque roster, almost amazingly, features five pitchers who have their names attached to minor league no-hitters. The other four had all pitched their no-hitters prior to 1975. They were Eleno Cuen, who pitched his no-no in 1972 for Cocoa of the FSL, Robert Dean and Paulo DeLeon, who had combined on a no-hitter for Cedar Rapids when they were an Astro affiliate in 1973, and Dave Aloi, who'd gotten his in 1973 as well, for Rookie League Covington. I have no idea whether the five no-hit pitchers on a single roster thing is any sort of a record or not, but it can't be common, and the '75 Packers almost certainly represent the greatest massing of no-hit pitchers in organizational history. And YOU tell ME what it means when I say that none of them pitched even an inning in the majors.

Alfaro's effort was nearly ruined before it began when Calvin Moore, leading off the game for Cedar Rapids, hit a sinking fly to right. But rightfielder Al Osofsky came in sliding on his knees to catch the thing. That was probably the most drama the large promo night crowd (first baseman Don Sasser had been named Giant player of the year before the game) would see, although maybe there was some suspense wondering how the ump was gonna call Kevin Drake's error, when a liner off the bat of German De Los Santos poppped out of his glove. Beyond that, it seems as if even the no-hitter was never in doubt, as no Giant got past first base, and according to the Gazette, "Alfaro seemed to throw as hard in the ninth inning as he did in the first."

The no-hitter was Alfaro's thirteenth, and last, win of the season; he dropped his next two decisions to finish 13 - 8, which was more than good enough to lead the team, although it was Aloi who led the Packers (and the MWL) in ERA. Alfaro was promoted to AA Columbus for 1976, and he would respond with a 7- 7 record and a 3.97 ERA. He would pitch at three levels for 1977, and was .500 at all of them. It was his last year in the Astros system. In 1978 he pitched in Mexico, and in 1979 was one of those who participated in the bold experiment that was the Inter-American League. When his Panama franchise folded, he drifted to Mexico, and finished his career with Veracruz. Overall, Jose Alfaro was 37 - 41 for his seven-year career.

---
| | | | | |
| --- | --- | --- | --- | --- |
| --- | --- | --- | --- | --- |
| Calvin Moore, cf | 4 | 0 | 0 | 0 |
| Tom Bhagwat, rf | 4 | 0 | 0 | 0 |
| Garret Strong, lf | 4 | 0 | 0 | 0 |
| Don Sasser, 1b | 3 | 0 | 0 | 0 |
| Mike Cash, 2b | 3 | 0 | 0 | 0 |
| Terry Lee, 3b | 2 | 0 | 0 | 0 |
| German De Los Santos, ss | 3 | 0 | 0 | 0 |
| Don Benedetti, c | 1 | 0 | 0 | 0 |
| Terrance Kenny, p | 1 | 0 | 0 | 0 |
| Barney Wilson, p | 0 | 0 | 0 | 0 |
| Jerry Stamps, ph | 1 | 0 | 0 | 0 |
| Joel Heinen, p | 0 | 0 | 0 | 0 |
| Joel Woobrey, ph | 1 | 0 | 0 | 0 |
| Wayne Bradley, p | 0 | 0 | 0 | 0 |
| --- | --- | --- | --- | --- |
| Cedar Rapids totals | 27 | 0 | 0 | 0 |
1
2
3
4
5
6
7
8
9
R
H
E
Dubuque Packers
2
0
1
0
0
2
0
0
0
5
10
1
Cedar Rapids Giants
0
0
0
0
0
0
0
0
0
0
0
2