If you think JR Richard made a big splash in his debut, you ain't heard nothing yet. Wait 'til you check out Karl Spooner. Possessing long spindly arms, and a good fastball with plenty of movement, Spooner had climbed steadily but unspectacularly up the Dodgers minor league chain--until 1954. He began that year as just another pitcher at AA Fort Worth--but would end it as--literally--the talk of the baseball world, after a call-up like no-one had ever had, and most likely, no-one will have ever again. Like Richard, Spooner led his minor league in strikeouts and co-led in wins.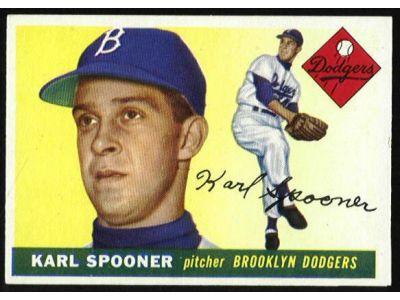 1955 Topps # 90

Like Richard, he was snubbed in the ballotting for his league's pitcher of the year award, in favor of the guy who had tied him in wins. And like Richard, he got a September call-up from a major league team going nowhere. And in his debut, he was even better than Richard. On September 22, 1954, not only would Spooner strike out 15 New York Giants, but he would also pitch a complete game shutout, allowing only two men past first base. Spooner would yield only three hits, and struck out 8 of the last ten men he faced. Plus he would double and score. Then, four days later, he did it all again.
Or almost did, anyway. On September 26, 1954, Spooner threw another nine-inning shutout, this time vs. the Pittsburgh Pirates. He only struck out 12 that time around, and didn't reach base, let alone score. But he extended his scoreless-inning streak to 18, his strikeouts-notched to 27, and secured "his moment of glory. . .so dazzling that no-one who was following baseball at the time of [his] debut has ever been able to forget it."†
The Pirate game was the Dodgers' last of the season, and I'm sure the Trolley-Dodger faithful spent the following offseason imagining what Spooner's bust in Cooperstown might look like. Perhaps if you're an Astro fan, you can remember the hubbub surrounding Carlos Hernandez during the 2001 season, when he began his career with 17-2/3 scoreless innings. Small potatoes I am sure, compared with Spooner. Hernandez compiled his numbers over parts of three games, only one of which he won; Spooner pitched two complete games, winning both. Hernandez "only" struck out 17 over those 17-2/3; Spooner struck out ten more than that. Hernandez gave up 11 hits and 7 walks, while Spooner allowed only 7 hits and 6 walks. Plus, Karl accomplished it all under a much more powerful microscope. Dodger fandom in the borough in the mid-fifties was something most closely aligned to a common hysteria or a shared mania; as big as Carlos Hernandez' debut exploits seemed to me and other Astro fans at the time, his story was a mere sidenote compared with the magnitude of the Spooner epic. Dodger fans in their frenzy expected "the new Walter Johnson. . . The new Christy Mathewson?"*
Of course, it was not to be. Peter Golenbock's book Dem Bums† gives us Spooner his ownself's description of the injury Karl sustained March 9, 1955: "I hurt my arm in spring training. I threw a real good curveball to Jim Rivera, struck him out, and felt a kind of a pull in my shoulder, but it didn't hurt that much, and so I finished the inning. After I took a shower and was dressing, jiminy crickets, it started hurting real bad, and I could hardly even put my damn shirt on. And that's when I told the trainer. He rubbed me down real good, put some diathermy on me. Of course, back then they didn't know near what they know today about arms."
His 1955 season was OK, moving towards good as the year went along, with a complete game and then his second complete game shutout of the Pirates coming back to back late, but 1955 was nothing like what might have been expected for Karl Spooner. His last appearance for Brooklyn was in Game Six of the 1955 World Series. After Roger Craig's Game Five victory, Spooner was given the first opportunity to get the Series-clinching win. "Alas," Silverberg says, and he's right : Starter and loser Spooner was torched for five runs in 1/3 of an inning, and it was left to Johnny Podres to get the complete-game victory in Game Seven.
Spooner's arm got even worse over the following offseason, and each of Spooner's comeback attempts after that was more ill-fated than the last. The Dodgers gave up on Spooner after 1957, and Spooner himself gave up after 1958. Later a manager for a Citrus house in Dodger Spring headquarters Vero Beach, Florida, Spooner died April 10, 1984, after what the Times called a long illness. He was 52.