JR Richard Ties the Major League Record for Strikeouts in a Debut

Houston Astros 5 San Francisco Giants 3

September 5, 1971 (Game Two)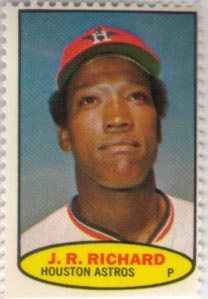 1974 Topps Stamp
---
1971 was a pretty good year for JR Richard. His 12 - 7 campaign at AAA Oklahoma City that season saw him lead the American Association in strikeouts, ERA--and walks, yet also saw him somehow yield the Allie Reynolds Award- the AA's Pitcher of the Year honor--to a 36-year old relief specialist named "Garland Shifflet" of the Denver Bears. Despite that small indignity, the Astros nonetheless recalled Richard upon the conclusion of the American Association campaign September 2. Also recalled upon the end of their respective campaigns at Oklahoma City were eight others the Astros considered good enough to join in at the end of a major league season that had become a major disappointment. And three of them played in this game: first baseman John Mayberry, catcher Larry Howard, and shortstop Ray Busse. On September 5, with the Astros at 66 - 74 after Jack Billingham's complete game shutout in the first game of a doubleheader vs. the Giants, the Astros had pencilled in Richard, Mayberry, Howard, and Busse to see what they could do.
Richard outshone them all, but he didn't have a good start. He gave up a single to Ken Henderson to start the game, then two outs later gave up a single to Bobby Bonds and a double to Al Gallagher to fall behind 2 - 0. But from there, Richard was pretty awesome: he would not again that day give up more than one hit in a single inning, and would four times get the Giants in order. His strikeouts began really mounting in the third, when he struck out the side, and he ended up with a strikeout in every inning save one. I'm sure that neither JR nor anyone with the Astros that day knew Richard was approaching the record for strikeouts in a major league debut, but Richard tied the record in fine fashion, by striking out the side in the ninth, and actually whiffing a future Astro manager--Hal Lanier--to end the game.
He had fanned 10 different men, but got the Giants' best the most-- Willie Mays K'd three times and Bobby Bonds came up empty twice.
Only after the game, I'm sure, was Richard told that he'd tied Karl Spooner's record for K's in a debut performance. Amazingly (or maybe not, considering the Say Hey Kid), Willie Mays played in the games surrounding both debuts, and Richard bested Spooner only in that he managed to fan Mays, while Spooner had not. That's not a knock on Richard: better scribes than me have noted that for a week in 1954 Spooner had been "plainly. . .a superman." JR Richard merely served notice that day that a new force was entering the National League, and it had eyes on dominance. And once that force got on track a few years later, nothing but cruel fate could derail it.
---
San Francisco Giants
AB
R
H
RBI
K

---

---

---

---

---

---

Ken Henderson, lf
5
1
1
0
1
(9th)
Tito Fuentes, 2b
4
0
1
0
1
(3rd)
Hal Lanier, 3b
0
0
0
1
1
(9th)
Willie Mays, 1b
3
1
0
0
3
(1st, 3rd, 5th)
Bobby Bonds, rf
4
1
1
0
2
(3rd, 6th)
Al Gallagher, 3b
4
0
3
2
1
(8th)
Chris Speier, ss
3
0
0
0
0
Jimmy Rosario, cf
3
0
0
0
1
(6th)
Jim Ray Hart, ph
1
0
1
0
0
Frank Duffy, pr
0
0
0
0
0
Jim Howarth, cf
0
0
0
0
0
Russ Gibson, c
1
0
0
0
0
Don McMahon, p
0
0
0
0
0
Dave Rader, ph
1
0
0
0
0
Steve Stone, p
0
0
0
0
0
Fran Healy, ph
1
0
0
0
1
(8th)
Steve Hamilton, p
0
0
0
0
0
Jim Willoughby, p
1
0
0
0
1
(2nd)
Jim Barr, p
0
0
0
0
0
Dick Dietz, c
3
0
0
0
3
(5th, 7th, 9th)

---

---

---

---

---

---

San Francisco totals
35
3
7
2
15
1
2
3
4
5
6
7
8
9
R
H
E
Houston Astros
0
0
2
1
2
0
0
0
0
5
9
1
San Francisco Giants
2
0
0
0
0
0
0
1
0
3
7
1