CRAIG BIGGIO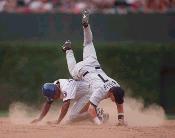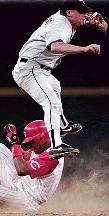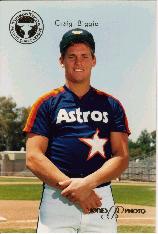 '88 Jones Photo Tuscon Toros Unnumbered
Craig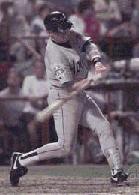 Biggio has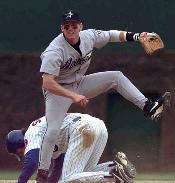 more singular (or
extremely rare) feats to
his credit, it seems, than even
teammate Jeff Bagwell. A few of
the many highlights: * In 1991, after
becoming the first Astro catcher to be named
to the All-Star team, he became the first to be charged
with catcher's interference in the midsummer classic. Paul
Molitor was batting in the first. * In 1992 Biggio became the first player ever to be named to All Star teams both as a catcher (1991) and as a second baseman (1992).
* In 1997 became only the third player in major league history to go through an entire season (minimum 150 games) without hitting into a double play even
once. Previously, only the Cubs' Augie Galan in 1935 and the Tigers' Dick McAuliffe in 1968, had avoided the twin killing so well. Biggio
played in more games than both, all 162 as a matter of fact. * Also in 1997, Biggio scored 146 runs, and in doing so scored more
runs than anybody in the NL since the Phillies' Chuck Klein touched home 152 times way back in 1932 .
* in 1998, he joined Hall-of-Famer Tris Speaker as the only members of the 50/50 club: having
hit 50 doubles and having stolen 50 bases in a single season. Speaker had 53 doubles
and 52 steals for the 1912 Red Sox. In '98, Biggio had 51 doubles and 50 stolen bases. He
also had 210 hits, the highest single-season total in Astros history. * In 1999, became only the sixth
player in major league history to have back-to-back 50 double seasons. His 56 doubles in 99 were
a team record. &nbsp * During this campaign he-- doubled in five consecutive games--broke Cesar Cedeno's
franchise record for doubles--scored his 1000th
career run--hit his 150th homer--and also
knocked in his 700th RBI * Amazingly, his
twelfth major league season in 2000 was
the first to be marred by injury. Still
he managed his 400th double and
his 350th steal. With a good season
in 2001, Biggio could reach
top 25 all time in doubles
and top 40 in steals.
BIGGIO ROCKS
BIGGIO ROCKS
* *
* *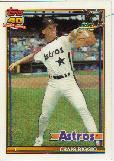 '91 Topps Desert Storm # 565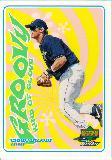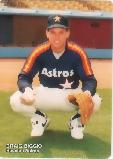 '98 Upper Deck Retro Groovy Kind of Glove # G19
'89 Mother's Cookies # 14
Click here to go back to Astroland