---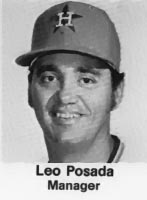 Posada as Pictured in the 1976 Columbus Astros Game Program

Born in 1936, Posada began playing professional ball in 1954 at Corpus Christi in the Big State League and would pass through stops like Lake Charles, Louisiana, Odessa, Texas, and Columbia South Carolina over the ensuing ten years--and some years were very good ones. He reached the majors for the Kansas City Athletics duirng parts of three seasons, in 1960, '61, and '62. In 1961, he got 344 at bats in 116 games with KC. He repsonded with a .253 average and 53 RBI's. The 53 was actually good for third on the club, though for some reason, he spent some of the year at Shreveport. But in 1962, he did not cash in on that good showing, and ended up tallying six RBI's total between Shreveport and KC.
Posada's playing record in the Major Leagues
Year
Team
League
Games
AB
Runs
Hits
2B
3B
HR
RBI
SB
CS
BB
SO
BA
OBP
SLG
1960
Kansas City Athletics
American
10
36
8
13
0
2
1
2
1
0
3
7
.361
.410
.556
1961
Kansas City Athletics
American
116
344
37
87
10
4
7
53
0
0
36
84
.253
.321
.366
1962
Kansas City Athletics
American
29
46
6
9
1
1
0
3
0
0
7
14
.196
.302
.261
'63 was ended in the Mexican League, and his career, so promising two years before, had begun to look questionable. But in 1964, the Paul Richards machine signed Posada and assigned him to the San Antonio club managed by Lou Fitzgerald. Posada responded with a .272-22-90 season and each year for the next five-each year until Posada's playing days were over--he found employment within the Astros chain. Posada's numbers leaguewide were good enough to finish him eighth in RBI's and sixth in homers for the 1964 Texas League champs.

In 1965, his MVP season for Amarillo was all the more impressive since the Sonics finished 17 out in the West. Posada led the league in RBI's and homers and finished no worse than ninth in average. For 1966, Posada's power numbers were down--I imagine something affected his playing time, maybe an injury?--but he did manage to finish seventh in the league in average. If it had been an injury, that injury continued to affect him in 1967, when he played AAA ball at Okalahoma City. But I think that even by this time, even though Richards and his protege, Lou Fitzgerald, were gone to Atlanta and their system, the Astros were grooming Posada for a managerial job. The fact that Posada spent two years under Fitzgerald at San Antonio and Amarillo didn't hurt, I'm sure.

After a year on the bench at AAA Oklahoma City in 1967, Posada was brought back in 1968 and assigned to the single A Florida State League. Tony Pacheco started the year as manager, but sometime during June, Pacheco departed for Covington to manage his second straight year for the Appalachian League Rookie club. Posada, who must've started the year as Player/Coach, was now Player/Manager. I don't have the splits, and I have no idea how much credit Posada gets and how much Pacheco gets for the Astros' 74 - 65, second-place finish.
Posada's playing record in the Astros system
Year
Team
League
Average
Homers
RBI
W - L
ERA
1964
San Antonio Bullets
Texas
.272
22
90
1965
Amarillo Sonics
Texas
.305
26
107
1966
Amarillo Sonics
Texas
.317
5
56
1967
Oklahoma City '89ers
Pacific Coast
.244
1
3
1968
Cocoa Astros
Florida State
.284
3
25
0- 1
10.80
1969
Cocoa Astros
Florida State
.313
0
3
If Cocoa came home with a respectable record in 1968, that was certainly not the case in 1969, when Posada this time began the year as manager. Pacheco, who was doing a respectable job at Peninsula, couldn't be blamed for the 42 - 87 debacle which resulted. 'Course, maybe Posada wasn't much at fault, either. This wasn't a talented team. Only three players, period, finished with higher than a .260 average, and one of them was Posada himself. The biggest name on the club was probably pitcher Oscar Zamora, who somehow went 13 - 4, with a 1.19 ERA. But regardless of how much Posada was blamed for the 36-1/2 back showing, he was not back managing for the Astros in 1970. Instead he became a scout and serveed in that capacity through 1972. Posada surfaced again in the manager's position in 1973, when the Astros moved their long A affiliate from Cocoa to Cedar Rapids. Posada led the team to a respectable 61 - 60 showing, and was watching I'm sure agog when Dean and Deleon spun their stuff.
Posada's managing record in the Astros system
Year
Team
League
Record
1968
Cocoa Astros
Florida State
74-65*
1969
Cocoa Astros
Florida State
42 - 87
1973
Cedar Rapids Astros
Midwest
61-60
1974
Cedar Rapids Astros
Midwest
54-66
1976
Columbus Astros
Southern
58 - 80
1978
Daytona Beach Astros
Florida State
42 - 93+
* Half-year managed by Tony Pacheco
+ Half-year or so managed by Chuck Sprinkle
He returned to Cedar Rapids for 1974, and afer a year managing in the Yankees' came back to manage for the Astros two years out of the next three. No, none of the seasons were spectacular, but it's all service time, you know? Posada left the Astros chain for good and became a minor league instructor for the Dodgers in 1979. I am still unsure what he did in 1977, although I would like to find out. Posada's career is one of the longer ones within the Astros' minor league organization: it'd bee wroth knowing.
If you don't mind the way this page kinda feel apart at the end, click here to go back to Astroland
Or click here to email me if you DO mind, or if you have information regarding Leo Posada, like season splits in '68 or '78.
Thanks to Maxwell Kates for help thus far.