Ken Forsch
---
At Columbus in 1970, Forsch led the Southern League with 5 shutouts, and that was good for a September call-up. He then posted a sterling 2.54 ERA as a National League rookie in 1971, winning eight and striking out 131. When his ERA ballooned to 3.92 in '72, the Astros started using him some in relief; he actually had five complete games AND four saves in 1973.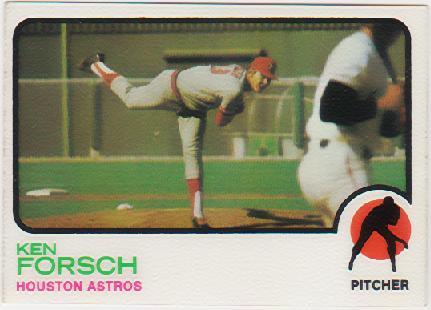 1973 Topps # 589
In 1976 he didn't start a single game, but compiled a 2.15 ERA and 10 saves. He struck out a batter while not allowing a hit in one inning of work at the 1976 All-Star game.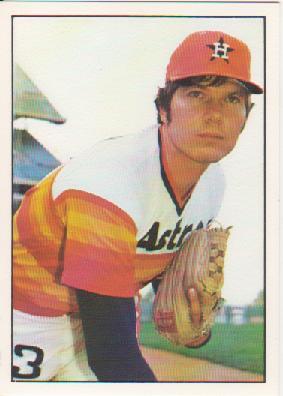 1975 SSPC # 48
With the emergence of Joe Sambito, in 1977, the Astros moved Forsch back to being primarilly a starter. Things really bloomed for him and the 'Stros in 1979, when Forsch started 24 times with 10 complete games (among them, his April 7 no-hitter vs. the Braves). The 6 - 0 gem came in his first start of the year, and was at the time the earliest no-hitter by date in Major League history. It may still be.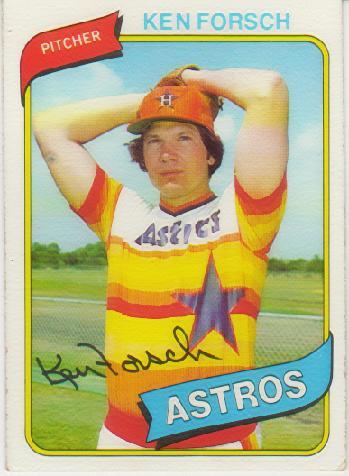 1980 Topps # 642
Ken rounded out his Astros career in 1980, starting 32 times, going 12 - 13 with a 3.20 ERA. Overall, he went 78 - 81 with 50 saves in an Astros uniform. Among Houstonites pitching 400 innings or more, his career 3.18 ERA still ranks eighth, his career victory total ranks ninth, and his career 36 complete games ranks tenth.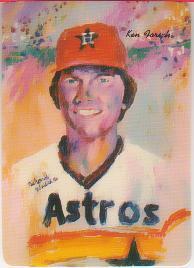 1986 Mother's Cookies All-Time # 14